Not exactly a subregatta, but certainly an event for bubbleheads!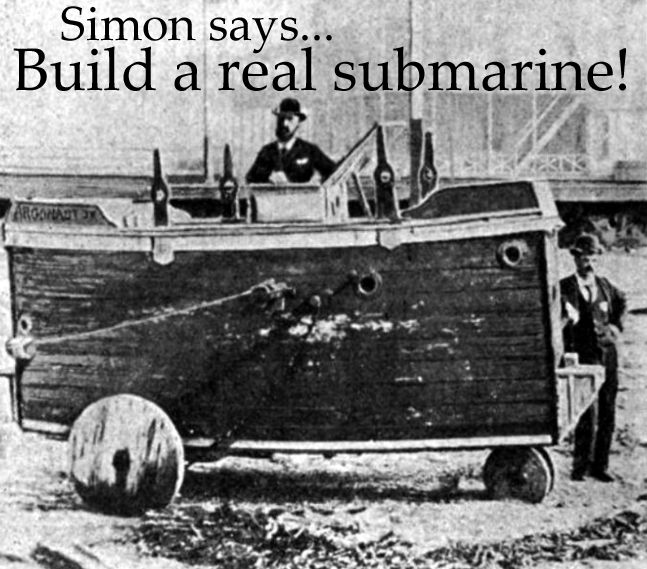 What if Simon Lake were alive now and needed to build the Argonaut Jr. in one day? Could it be done and how would he do it? We plan to find that answer. And have some fun too. You are invited to join in the fun. The weekend is June 18th - 20th, 2010, in Tulsa Oklahoma. Come Git 'er Done!
In 1894 Simon Lake built a 14' submarine out of yellow pine as a proof of concept of his airlock for future investors. Here's your chance to help build a 1:1 diving submarine and take a ride!
Everyone is welcome to join in the design, construction and take her for a dive. 1894 was and exciting year for Simon Lake, and an exciting period of Oklahoma. Only nine years before, Oklahoma was Indian Territory and famous for the Chisholm Trail. Now 116 years later were going to have a little excitement again.
You don't need to know anything about submarines or diving to be apart. Everybody has ideas and knows something that will help. Maybe you just know jokes. Come on and join the Yahoo group and introduce yourself.
The build and trial test weekend will be June 18th - 20th, 2010, in Tulsa, Oklahoma. Kay and Doug Jeffries will be your hosts. There is no cost to you. We'll provide food, drink, and bandages. There is a hot tub and showers and you're welcome to throw down your bed roll where you like. We're spittin' distance from the airport so if you'd like to fly in we'll be there to fetch ya home.
The goal is to build a piece of history, enjoy the company of other underwater and history enthusiasts, get to skipper a submarine, and go home with great memories, new friends, and all of your fingers.
Once the Argonaut Jr. 2010 is in the water she'll berth at a marina through July. You'll have the opportunity to be her skipper during that time. Your only obligated to learn the ropes from a previous skipper and train the skipper that will follow you as well as maintain the boat. After July, she'll be pulled out of the water and available for school exhibits. Come Git er Done!
For more information see -
http://www.submarineboat.com/argonaut_jr_2010.htm