hello again all...
i wanted to post my progress from the past two weeks. i had to put the tecumseh aside for a while, so i dug the thor alfa out of storage and decided to take a crack at it.
no disrespect whatsoever to matt and his gorgeous boats, but we all know that the alfa was incorrect in a few areas, most notably the scribing detail. this is only b/c the information available at the time of the origins of this beautiful boat was far inferior to what we now have, due in no small part to the research of wayne.
forgive the picture heavy nature of this post...
but on with the show. please provide feedback, criticisms, suggestions, etc.
this alfa was bought several years ago, perhaps four. its sat in storage ever since.
i wanted to present a more accurate representation of the alfa, at least within my amateur abilities. i did not want to undertake the task of reworking the bow into a more blunt shape as is the case of the real boat, so i left the hull shape itself as-is.
but when it comes to the scribed detail, i wanted to start fresh with a blank slate. i scraped out all detail on the upper hull half, filled it in with bondo and notrostan, and then gave the whole thing a thin glaze or resin. this way, when scribing in the new details, i wouldnt smack into the old ones. once the new coat cured, i smoothed it down and blasted it with black primer (pencil mark show up very well on flat black)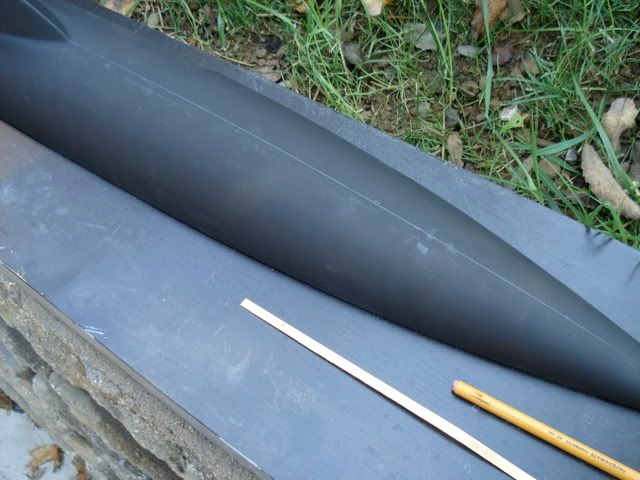 i marked the hull with a centerline, and then used a crude wooden coutout to give me a but line for the stern half, which in the mean time, i would use as my "zero" point, from which all sequential measurements could be made white transferring details form the plans to the hull.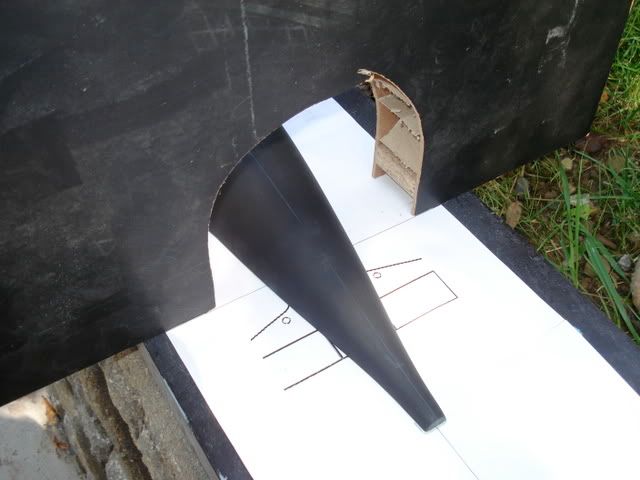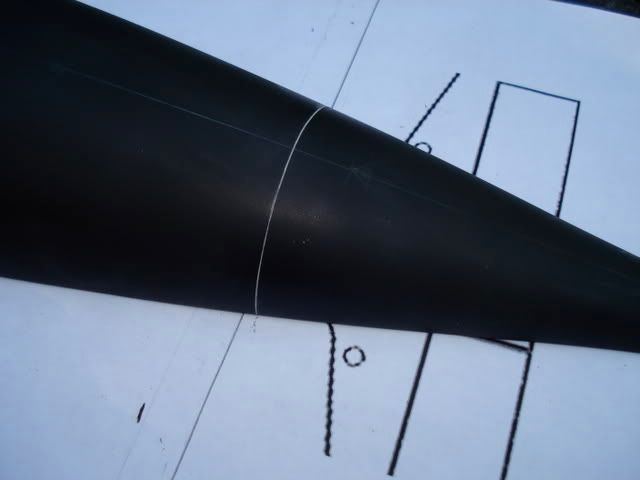 the plans i am working from came from russian military website. there are several of these available for the alfa, and each has slight differences. i chose the ones i did because they provided the closets, but still not perfect, arrangement of hatches, capstans, doors, etc. in the background of some of the photos you may see these plans. those items marked in green are details that i could confirm their existence and position based on actual photographs. those marked in red ink are details that were misshapen or had to be slightly moved based on comparison to photo evidence.
the task or resribing is pretty straightforward. once i determined the distance and location from the marked starting point on the plans, that detail was penciled in on the hull and then scribed in once i was happy this its position. here a few photos of scribing in progress.....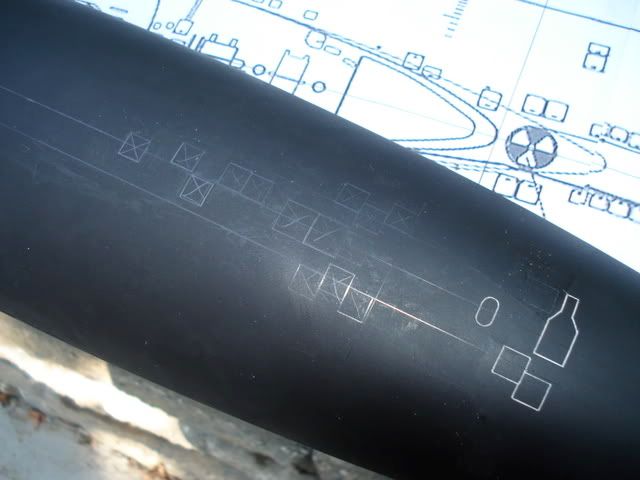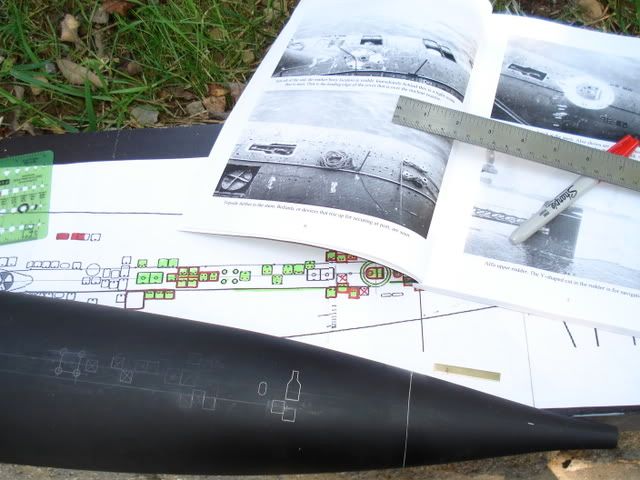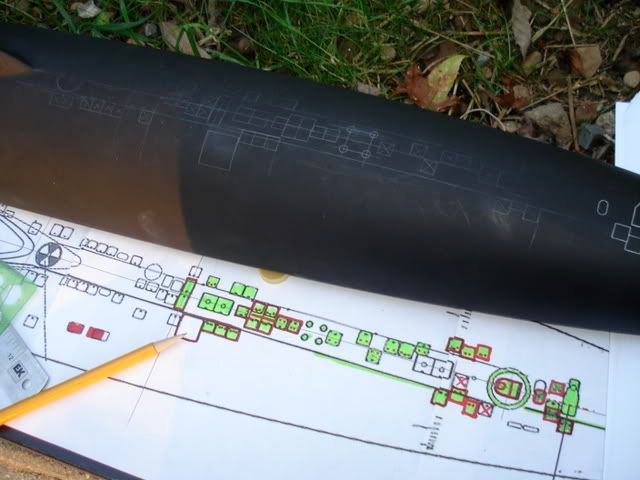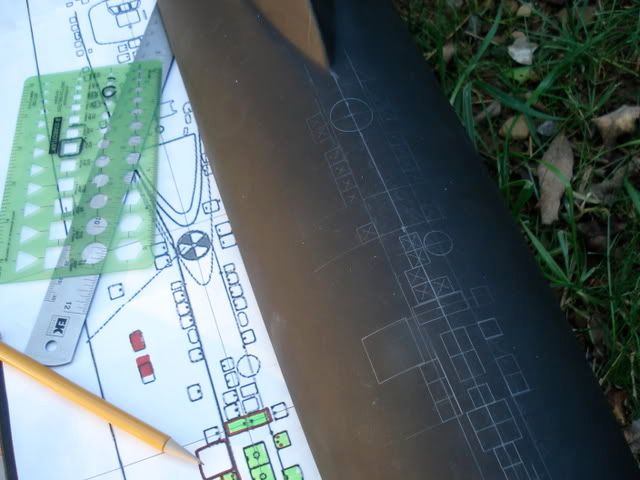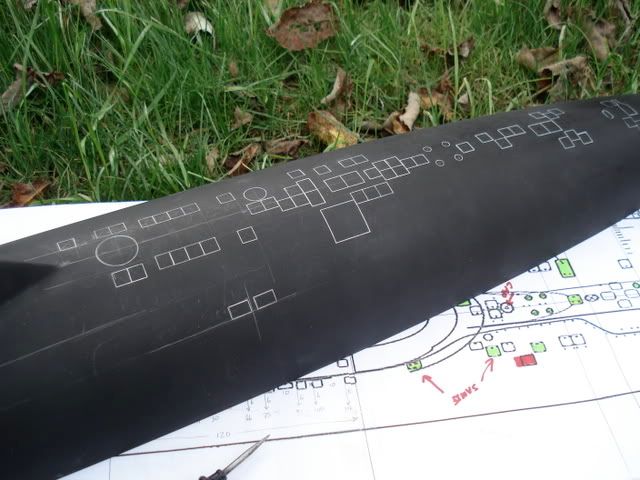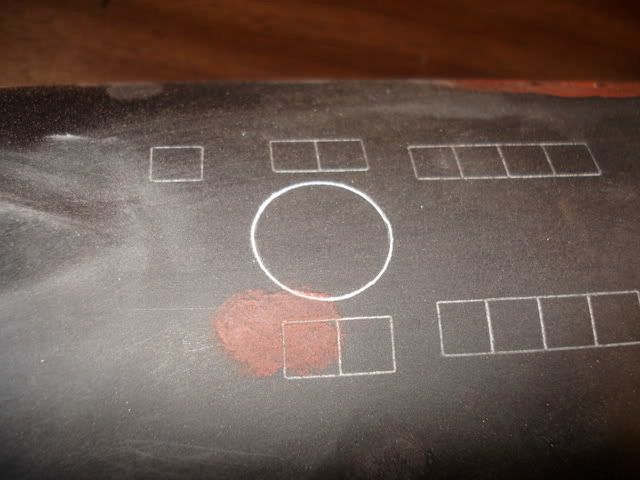 as you can see, a little touch up putty was needed from time to time to correct my over-zealous hand!