...so saturday morning i stroll into the regatta in carmel. got my name badge and a couple shirts, and ran them back down to the car. as i was coming back up past the registration desk, dave brelsford pulled me over, and with wide eyes basically ordered me to go over to the swap table and take a look. low and behold there was a copeland 688i hull sitting there, painted and complete with linkages. i thought to myself, ok, theres no way i have enough cash on me to take this thing home with me. that is, until i looked at the price. talk about a bargain! so i grabbed my wallet and searched out the owner. within a few minutes the boat was sitting in front of me at a table at the back of the tent. who needs money for food when youre taking home a quick and easy project boat, right?
ok, i know this technically isnt a "build", since all i had to really do was throw in a wtc and trim this puppy out. but im going to post it here anyways. deal with it!
i wont go into a lot of detail here, just wanted to throw out some pictures and a few comments.
1. the LA in carmel, right after purchase. she was built as the cheyenne, ssn-773.....
2. the boat still had foam and weight installed, and was built and balanced for a wtc3.5 (which i changed to a 3.0)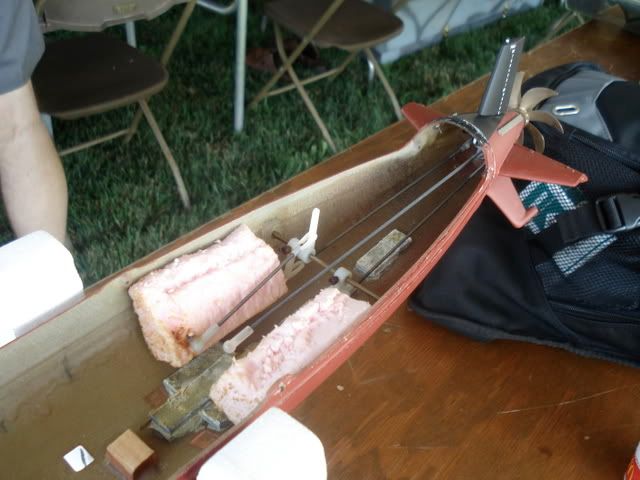 3. by monday night i had the wtc almost ready to go. ran into a couple issues, however. the esc i had was shot, as well as the failsafe. had to order a new esc from caswell, and replace the newer failsafe with an old subtech subsafe from about 1999...but hey, it works!
4. the new esc arrived wednesday, and everything was set to go. using a futaba radio, receiver, and servos, caswell sub10 esc/bec, subtech failsafe, and atomic subs apc. as for the batteries, using 2 1900 6-cell packs in parallel. theyre a tight fit in the forward wtc compartment, but give me double the run time, and give me the extra weight i needed.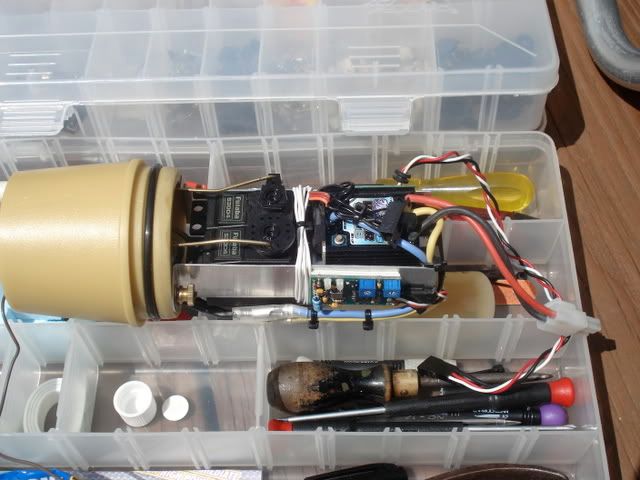 5. rather than trying to rebalance after switching from a 3.5 to a 3.0 wtc, i spent several hours removing all the old foam and lead, as well as scraping out every last little (and annoying) bit of silicone. and i do mean every last little tiny freakin' bit!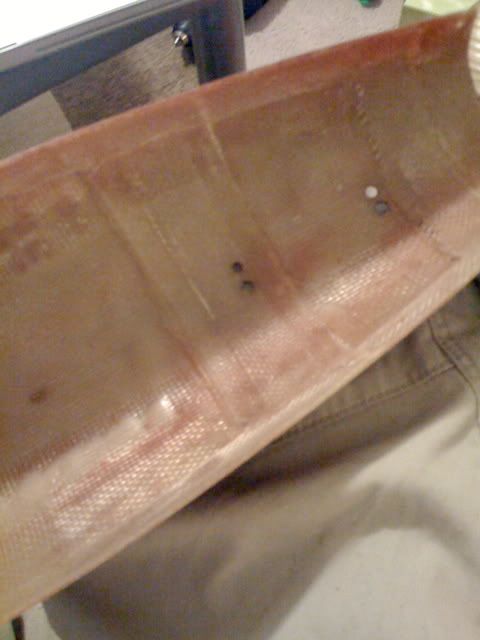 6. corrected the length of the linkages for the new wtc. laid in the new lead weights, and got the cb and cg perfectly aligned vertically. sealed it all up, threw her in the tub, and started strapping on some foam to establish surface trim. i cut out a bunch of 10" strips of 1/2" thick blue foam, and marked and scored them in 1" increments. that way, i could start with a full 10" strip, and break off 1" at a time to get the trim right.
7. i found a bunch of these great little clips at the hardware store in the dollar bin. 10 for a buck...not bad. a little silicone, a few clips, and the foam was all in place. some along the center line, but most was in the upper hull section, just below the surface water line.
8. now onto to submerged trim. a little more foam, a little more weight, etc. ive got it set so that about 3/4" of the sail remains above water with a water filled ballast tank.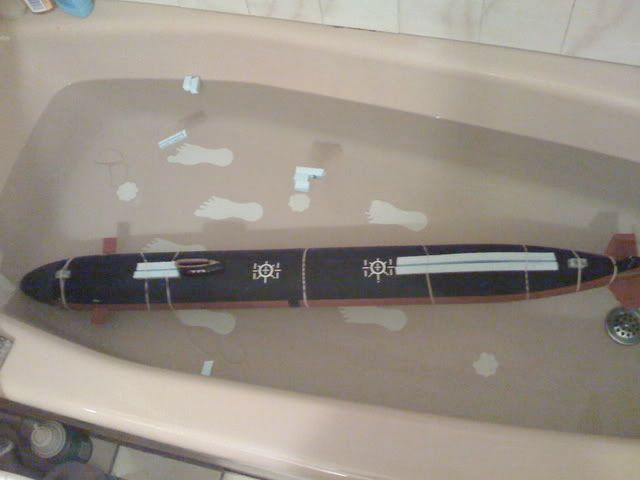 9. doing the foam in little strips like this really does make it easy to measure and set. you can see the surface trim foam low, and submerged trim foam high and center.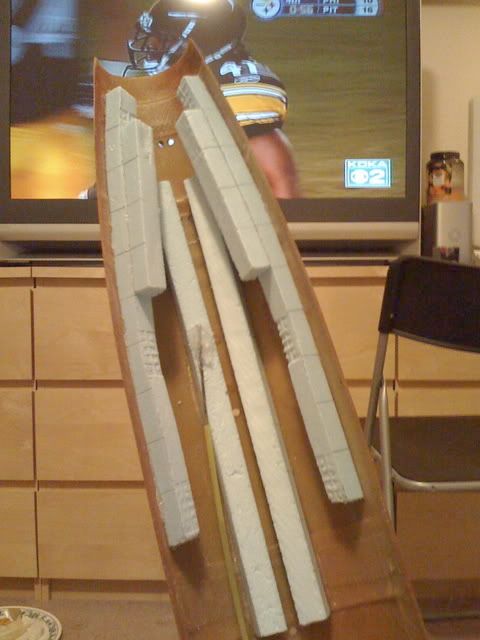 10. so today is saturday, and its time to get her wet in my friends pool.
11. the LA did well on her first runs. i did have to spend quite a bit of time finding and fixing a tiny leak in the wtc...but i think ive got it mostly under control now. overall im happy with the results, but the la has one hell of a huge surface turning radius! other than that, no complaints.
if you pay close attention youll notice the water line as painted is not correct. when i trimmed the boat, i did so more according to the real thing. im going to run this one as is for now, and later in the fall or winter will sit down and give her a fresh paint job and a little more detail. but thats a job for another day...
comments, suggestions, criticisms welcome.
erich kloss