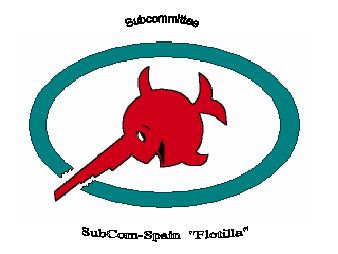 SubCom SPAIN - The Flotilla
Contacts ~
-Pedro Gómez
pedrogomezu256@gmail.com
-Salvador Morón
smoron@aparellador.com
Number of Active Members: 20
Additional Information:
The Spain Subcommitte Chapter: SubCom Spain "Flotilla" is made up of about 20 friends interested in RC subs. They have different geographical origin here in Spain, and periodically we have meetings to patrol our waters. We have an annual meeting, wich happen at the same time the annual regatta of "Model Boat Artistic Association from Sabadell", near Barcelona.The members of the "Flotilla" have different skills: Dioramas, molds, machinery, video & photo, RC static conversions, documentation...and everyone help others in their proyects.
The main idea is enjoy RC subs in a good friendly environment and team spirit .
The group made an effort to participate in all local activities RC subs related.
People who are interested, please contact us by e-mail.
El Spain Subcommittee Chapter: SubCom Spain "Flotilla" esta fomado por 20 amigos, interesados en Submarinos RC. El grupo consta de individuos de diferente procedencia geografica en España y que periodicamente se reunen para realizar patrullas. El grupo suele reunirse una vez año, coincidiendo con el Encuentro Anual de la Asociacion Artistica de Modelistas Aeronavales de Sabadell, un Club local ,que tambien agrupa a un numero de los miembros de la "Flotilla". Los miembros de la Flotilla trabajan en diferentes areas, Dioramas, Maquinaria, Moldes, Video & foto, Documentacion, ... ayudandose unos a otros en sus proyectos,
La idea principal es disfrutar en un ambiente de amistad y camaraderia de la aficion a los SubmarinosRC.
El grupo intenta participar en todos los eventos anuales de modelismo naval RC en nuestra zona.
Interesados en conocer nuestras actividades o a empezar en el mundo de submarinos RC, contactar con nosotros via e-mail.