Well having completed all the little home projects it time to turn my attention to the Revell gato thats been sinking into my workbench the last couple months. Purchased the David Meriman conversion kit from Caswell and was pleased with the quality of the kit. The cd David has made to go with the kit is a really big help, I don"t think I could bring myself to cut up a kit like this without seeing him do it first. He is a wild man with the roto saw but in the end the boat comes out looking great. The D@E WTC looks good,the price seems a bit high until you see what you get, It has alot of pre assembly already completed and your trading a little money for alot of work savings. anyway enough of this before Merimans head starts to swell up with all the praise.!!!!!!!!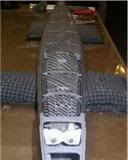 The patient marked and ready for roto saw.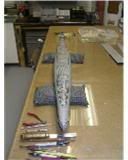 After the cutting,still have all my digits and no blood on the bench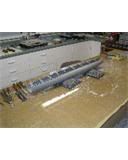 Hopefully the pics are OK, Ive been doing alot of lurking and not much posting lately so I may be alitttle rusty.