I have almost finished putting together this little mini-sub.
The story..
I have been helping a friend develop a mini sub for r/c. Called Aquaflite, it is heavily inspired by the Deepflight Aviator.
Although the prototype design has full bubble domes and its motors are mounted on the pylons near the stern ..I just wanted to be different with mine!
So having been supplied with the basic kit mouldings I set about converting it to a wet sub, more like something from a James Bond film.
The two frogmen are basically from bath toys that I have adapted.
I still need to put more detail onto the sub. And I may move the motors up to the as designed positions on the pylons. I liked the idea of having my motors underslung, but it was difficult to do wthout spoiling the lines underneath.
The jury's still out on that. Also my 4 rudder version turns very well, but I'm not sure if it is because I am getting prop wash directly onto them, or simply because there are 4 of them!
Well I am having fun tinkering
.
I would like to know any thoughts you might have about my model, and the mini-sub as a marketable concept..
click on thumbnails to enlarge
Mouldings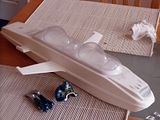 Adapting the bath toys