I am just finishing putting this submarine together for a friend. He had bought a Robbe Seawolf kit and discovered it was a bit beyond his modelling capability. For some reason the conning tower was missing from the box when he passed it on to me but that was not a bad thing, I'd often thought about taking a Robbe Seawolf and making it look more like a real sub.
First to go was the levelling mast and radar scoop! Seeking a suitable refit design I looked through my submarine books and almost went for an Albacore because of the similar rear control surface arangement but the main hull is quite different, so I finally settled on the idea of a generic early Brittish SSBN, kind of a forerunner to the Resolution class. I know it's not strictly an accurate model but I just wanted to give my friend a sub that looked realistic, and I have to say detail wise I had lots of fun, (normally I'm a stickler for detail, this was the first time I could relax that a bit. )
So, with the ommission of the levelling mast/radar scoop I re-configured the operation of the bow planes. Replacing those auto levelling pieces, I made a simple threaded adjuster which directly links onto the bow plane crank arm. The threaded rod extends through the upper casing and appears as the sonar post detail on the deck. So adjustmants of the angle of attack on the bow planes can be made externally by simply turing the sonar post. (I have drawn the outline of that operation on the photo to show how it is placed inside).
new bow plane adjustment mechanism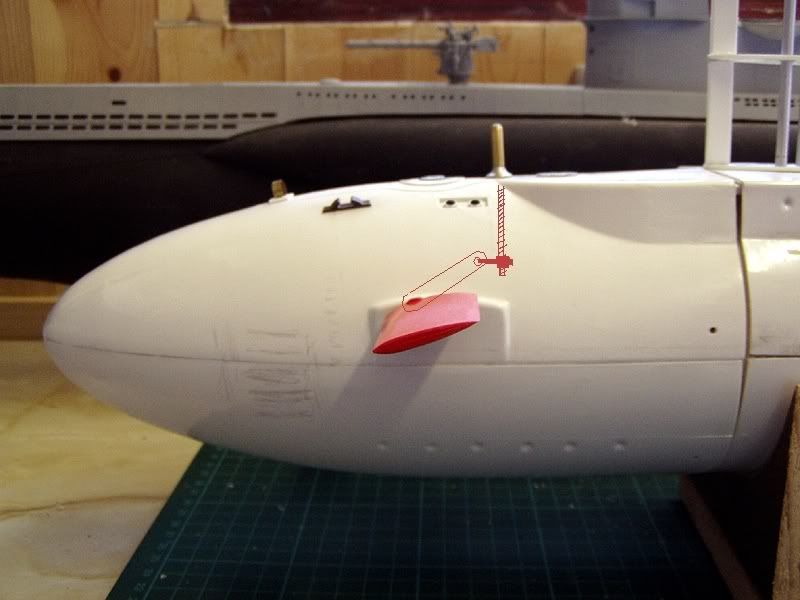 So Diving function is now achieved by having a constant down angle on the bow planes which can be pre-adjusted and 'flying' her up and down using the rear planes via R/C. The first trial run using this arrangement worked pretty well. A constant PD was not possible, is it ever on a dynamic diver? I have put a little more weight in for her next voyage.
As you can see below I started constructing her a new tower. This is roughly styled on a Brittish Resolution class. I used tube for the periscope standards so I can make seperate periscope parts to just slide in. That way it will be easy to just pull them out and make new replacement ones if, (when!), they get bent by a surface raider.
Also you can see at this stage,( before the tower is skinned over ), the brass tube - this is the only tube which goes right through into the pressure hull. The Robbe design has a tyre valve fitted through the rear deck section for pressurising the WTC. But that would spoil the look of my missile deck. So instead I stuck the valve atop the tower disguised as the snorkel induction mast.
I also added some deck details, fairleads hatches, safety rail, etc.
The bow planes have also been cut down to a squared off appearence.
Click on thumbnails below for larger image
Cardboard tower template on the hull, used to determine a good proportion, with the new tower under construction sitting below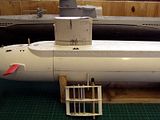 New tower, still under construction, in place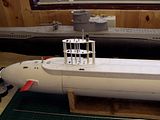 Brass tube with tyre valve - goes down into WTC, for pressure testing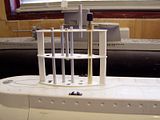 holes in conning tower floors to help flood/drain the tower quickly
some details added on the bow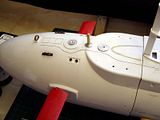 some details added on the stern (missile hatches to come)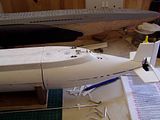 She has already had her shakedown cruise. Sunday I took her down to the boating lake and lots of fun sailing her. I just had a few minor tweeks to do, but the diving arrangement worked well. Speed control via the ratchet stick on the TX can be set at a constant, then the other stick controlled left/right, and pitch control. So she is running on three channels, with the adjustable pre-set bow planes. Actually I was really surprised at how little down angle on those bow planes is needed to give enough down bite.
More pics to follow soon when she's painted.