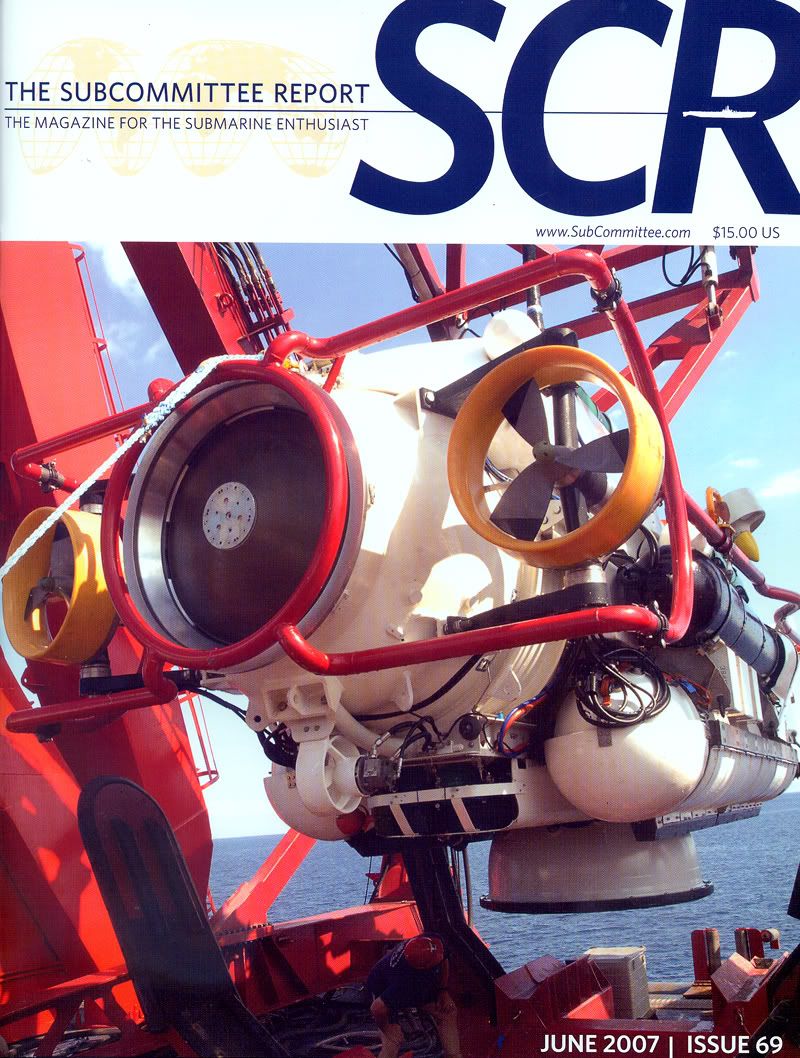 SubCommittee REPORT issue 69 - June 2007 is in the mail!
Pete Piekarski has taken the con as the new SCR editor and this is his maiden issue. You WILL LIKE the upgrades Pete has made incuding the new cover design. Bravo Zulu Pete!
June 2007
The USS Blueback - Peter Egypt
Road to Virginia - Part 1 Scratch building a 44 inch USS Virginia Hull by Pete Piekarski
Reverse RCABS - Another Alternative Ballast System by George Protchenko. "Crazy Ivan" shows how he builds his ballast systems.
A Scratch Built Disney Nautilus - Part 1 by Keith Mitchell. Keith documents his scratch-build of this submarine film classic.
Return of the Scorpion - by Brian Stark; photos by Wayne Frey. Brian shows how he repaired airline-inflicted damage to his RC sub.
REGULAR COLUMNS -
Smoke on the Horizon - Jeff Porteus and Dr. Volker Klein. Two new Seaview kits, a new low-cost static diving RC sub.
Tales from the Torpedo Room by Don Meadows. Don's boat comes across the UPHOLDER.
Static on the line - Tom Dougherty
New fleet boat accessories, new 1/700 scale submarines, fleet boat diorama by Ken Hart (Ken was the first president of the SubCommittee and the best sub diorma builder that ever came down the pike!)
Sub Books by Jeff Porteus
Slade Cutter: Submarine Warrior by Carl LaVO.
Membership Incentive Program -
Write some articles, support the SubCommittee, and save some money!
ADVERTISERS -
AMYA.org
The SubRegatta!
Russian Submarines by Wayne Frey
SubTech
First Annual Indianapolis All Hobby Swap Meet and Expo
SubRegatta 2005 & 2006 DVD videos by Kerry Addington
West Coast Fall Fun Run
OTW RC subs - OTWdesigns.com