From time to time "Postimage.org" goes down and the pictures don't appear in posts. They aren't permanently lost, Postimage.com has a burp and goes off line for a little while. They do come back! Hopefully sometime in the future we will be able to avoid that issue by allowing SC members to store their images right here on the SC website.
However, if you are the impatient type and don't want your images to go offline once in awhile, you can upload them to Photobucket.com - the disadvantage is that there is no way we can put an easy "add image to your message" button with Photobucket like we can with PostImage so there are a few steps you need to take.
The other advantages to Photobucket- besides being a more stable place to put your pictures, and that still photos appear nearly full frame, is that you can now also post your videos there too and they will appear in your message!
If you follow the instructions below, the first frame of the video will appear in your post. People who wish to view it, can click on the still frame and it takes them to Photobucket and plays the video nearly full frame. I'm not sure of the size limitation, but as an experiment I uploaded a 10 MB video for this demonstration and it worked!
+++++++++++++++++++
Go to
www.Photobucket.com
You need to set up an account (free) so register using a username and password you can remember(!)
Once you are set with an account - go to "My Album"
See the "upload images (and videos)".
Click on whichever one you want to upload - this will be for a video but the same steps work for still photos too. If you want to upload a video click on "and videos". Then it switches to "Upload videos (and images)"
To upload your video - use the "browse" bar and find the video on your computer. Clik on "Open".
Then click on "UPLOAD" and wait. Videos take awhile so be patient!
When you get the message "VIDEO UPLOADED"
But wait! You're not done yet.
Scroll down and you will see a window with a still of the first frame of your video with 3 bars below it labled "URL", TAG" and IMG" like so...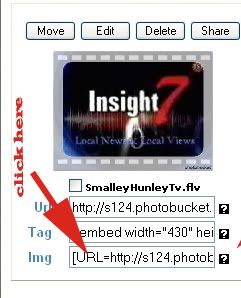 Click inside the IMG bar and the test inside it gets highlighted. Then copy that with Ctrl-C (holding down the Ctrl key on your computer and press the letter C key on your computer.)
Then go back to the place where you are entering your message on the forum and paste what you copied by pressing Ctrl-V.
A long string of letters beginning with [URL=http://... appears. However when you post your message, this is what you get! When it is clicked on, the video starts in a new Photobucket window. Cool eh?
CLICK PICTURE BELOW TO START VIDEO