BY BRIAN HICKS
Wilbur and Orville Wright needed four years to design, build and test their first successful flying machine.
It took a group of apprentices at Bosch Corp. just a few months to make a perfect replica of it.
The handiwork of engineers from Bosch's apprenticeship program has caused people to do double-takes around Charleston for the past few years. On the hangar deck of the Yorktown, an exact replica of John Glenn's impossibly small Friendship 7 space capsule sits alongside an interactive model of the Apollo 8 command module. Every now and then,
someone thinks the Air and Space Museum is lending out their toys.
Now, Bosch plans to donate a model of the 19th century fishboat Pioneer - the first submarine built by James McClintock and Horace Lawson Hunley - to the Warren Lasch Conservation Center, where it will become part of the Hunley lab tours.
The big question here is why an automotive parts manufacturer would build such painstaking recreations of famous vehicles. As it turns out, these models - great for teaching a little history - are actually lessons for the engineers who build them.
Louie Roberts Jr., who leads the apprentice program, says Bosch - which makes automotive parts such as fuel injectors and brake systems at its Dorchester Road plant - trains many of its engineers in house, and these models are projects that challenge electrical engineers and machinists to research a project, learn a little bit about some historical machine, and then put their training to work. Everything is made from scratch.
It certainly takes a little creativity, inventiveness, and research. Jeff Sprague, one of the engineers who worked on the Pioneer model, said they used historical sketches and contemporary descriptions to machine the submarine, right down to the hand cranks and depth gauge. But it's just a model, so far as they know.
"They asked us if we were going to test it in the pond," Sprague said.
Uh, no.
Many of these models are, appropriately enough, reproductions of cars - the 1886 Benz Patent Motorwagen, the 1896 Ford Quadricycle, the 1953 Corvette. But one apprentice team built a "crash cart" for MUSC's emergency room, a rolling equipment stand. Another team constructed a replica of the B-9 Robot from "Lost in Space." But no warning, Will
Robinson, here.
"Everything works but the death ray," says Mike Bryan, former head of the apprentice program.
Bill Kracker, director of manufacturing, operations and engineering for gasoline fuel injection systems, says these projects are great tests for people who are just one step away from the front lines at Bosch, where they will have to build "high-performance parts that have to be machined to a fraction of a micron."
While many of these reproductions sit at Bosch headquarters, tourists around town have gotten to see a few of them. Ned Forney, director of education at Patriots Point Naval and Maritime Museum, says the models are great points of interest on Yorktown tours - and appropriate ones, as the Yorktown is the aircraft carrier that picked up the Apollo 8 command module, and its astronauts, after the first voyage from the Earth to the Moon in 1968.
"Every kid who comes on a tour hears these stories," Forney says. "They like the Wright Brothers flier and the space capsule. The kids love looking at how far we've come in 100 years."
As for the Pioneer, which has been on display at the Charleston Museum, Hunley Commission member Randy Burbage says the model will be an important addition to the tours and, eventually, the Hunley museum.
"This is going to help us tell our story a little better," Burbage says.
And, there's a chance that it made your car a little better, too.
###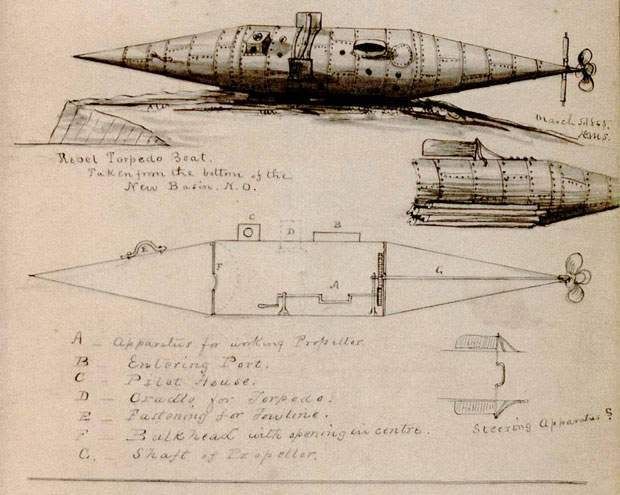 ***