Attention all hands,

The status of our third annual fun run, Sun N Fun 2005, is as follows:

We will return to San Gabriel Park in Georgetown on August 20 - 21 at Arbor A. Many of us will arrive Friday, August 19th and go out to eat together at one of the local restaurants near the Holiday Inn Express, our base HQ.

So far I've heard from many who are coming, both faithful attendees and newcomers. My current count on running subs is six with half again as many active targets as well. The waters will definitely be stirred! Many boats under construction will be there too.

Since the Nautilus seminar was such a hit last year, we've reserved the conference room again for Saturday night. This year's theme will be "Build That Boat". Wayne Frey will demonstrate polyurethane resin casting, Tom Kisler will speak about how he weathered his beautiful USS Scorpion, Gail Phillips will discuss r/c electronics, and Matt Thor will bat clean-up on prinicples of r/c sub construction.

Finally, the official Sun N Fun 2005 t-shirt is in production. Price at the event is $15 for sizes adult M, L, XL. Price for mail delivery is $18 (order via email: paul@warfish.com). Here is the design for the back of the shirt: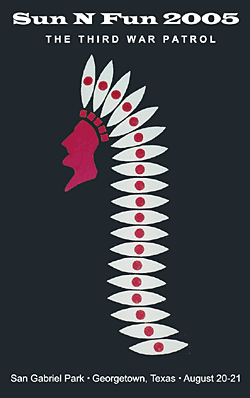 So, let's hear from everyone who's coming and what you're bringing! Personally, I can't wait.