Another successful patrol is logged and the boats are back in the yard. Attendance was good (many new faces) and the number of running boats increased greatly over last year. Most of all it was the people -- who provided the hard work that made it all happen, and the wonderful fellowship that makes meeting so enjoyable.

Bravo Zulu to:

Gail Phillips who got all the boats back online on Saturday, and constructed both the nav course and the sharpest looking frequency board in the r/c sub fleet.

Carl Dietz who kept us well fed and hydrated, informed in the event run-up and handled airport shuttle duties beautifully.

Rich Allsmiller who provided a stunning 2 hour presentation on the Disney Nautilus and the legacy of Harper Goff and Tom Scherman. A truly great new pal.

Wayne Frey who was once again a driving force in the event, helping us plan and execute as well as the always ready rescue diver/underwater photographer.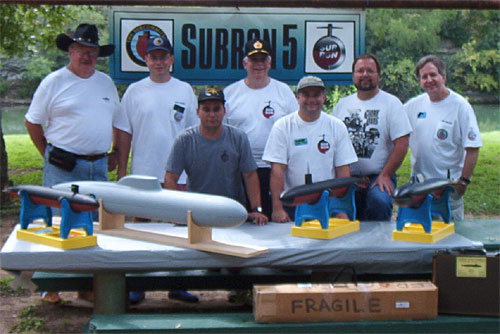 Heading to the barn: Rich Allsmiller, Paul Crozier, Wayne Frey, Gail Phillips, Carl Dietz, Don Baker, Jeff Porteous.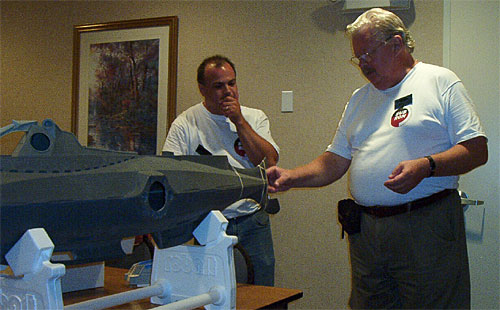 Rich schools Carl and the group on Nautilus details.

It was a great time and a pleasure to be a part of. Looking forward to next year!